---
Making Healthcare Work Better
HealthWorks is dedicated to assisting healthcare organizations with valuation services, litigation support, trauma center planning, hospital-physician transactions and hospital and physician business planning.
We also assist healthcare law firms with expert witness, trial presentation and other related services for hospital/healthcare group legal matters.
---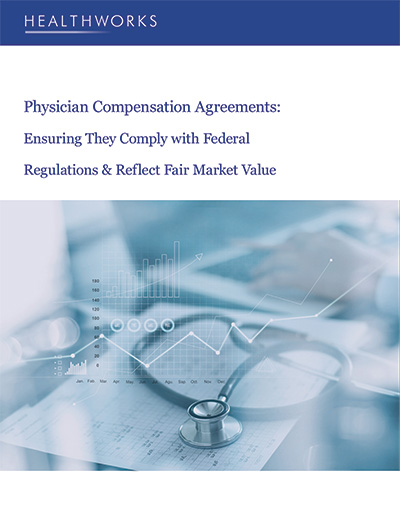 Sign up for our free white paper: "Physician Compensation Agreements:
Ensuring They Comply with Federal
Regulations & Reflect Fair Market Value"
What We Believe
We believe that the key to making anything work better, including our healthcare system, is to wake up every day with a focus on doing what matters. We believe that hospitals and physicians working more closely together matters, and that such work must be supported by fair compensation models that align interests.
As emergency, trauma, and critical care inpatients utilize a growing proportion of inpatient resources, we believe that hospitals must operate at peak efficiency levels and deliver better quality in these areas. Lastly, we believe that hospitals and health plans must continue to collaborate to develop payment methods that incent efficient, high-quality care, at amounts that are fair given the value being exchanged.
How We Do It
We work with you, combining our market insights, analytics and proven methods with your internal knowledge, to develop and implement the most practical data-driven solutions.
We emphasize collaboration between physicians and hospital leaders, by identifying common interests and designing solutions that align incentives and promote synergy. We are known for our clear, common sense presentation of data about markets, organizations, and best practices. We engage your team in previews of our work product to make refinements, bringing clarity, consensus and improved decision-making to each situation.
Who We Serve
Our 20-plus year client experience includes over 280 organizations across the U.S. including tertiary and academic medical centers, trauma centers, as well as community and rural hospitals.
In addition, our experience encompasses multi-hospital healthcare systems, and integrated delivery systems, multi-specialty and single-specialty medical groups, law firms, and managed care health plans.
Tertiary and academic medical centers, community hospitals and rural hospitals
Multi-hospital healthcare systems
Trauma centers
Physician groups
Law firms
Managed care health plans